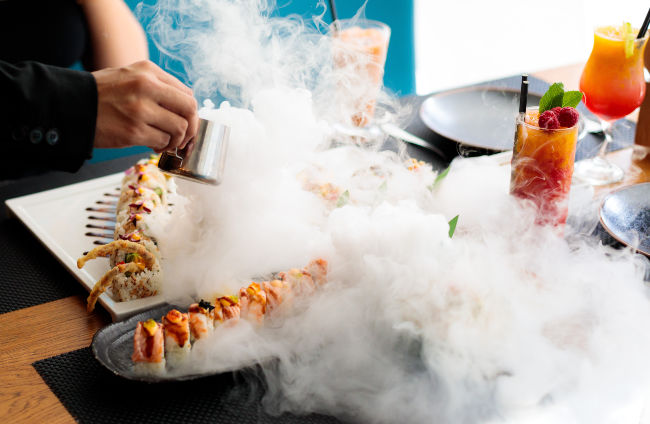 We finish this list with LuMi Bar and Dining, a fine dining restaurant that has honed its craft when it comes to creating modern Italian cuisine that has a uniquely Japanese twist. Offering beautiful views of King Street Wharf, this Michelin star-worthy restaurant is known for its impeccable presentation and culinary expertise.
With rows of tiny pendant lights hanging overhead as the Sydney CBD sparkles in the background, LuMi Bar and Dining creates an elegant and romantic atmosphere, perfect for treating your partner.
Owner and chef Federico Zanellato offers an unparalleled tasting menu, and like Firedoor's tasting menu, their menu entirely depends on the seasonal ingredients they use. A signature dish Zanellato is known for is his 'Italian sushi', which is made using stracciatella cheese and koshihikari rice as the base, a top layer of sea urchin roe and then finished with a carefully placed crown of Osetra caviar.
To say "LuMi Bar and Dining is the epitome of fine dining" would be an understatement.
Website: https://www.lumidining.com/
Address: 56 Pirrama Rd, Pyrmont NSW 2009
And there you have it, our top 10 restaurants in Sydney that definitely deserve their Michelin stars. Even though Sydney may not have any Michelin star restaurants (yet), this in no way means that we don't have a range of fine dining restaurants which offer an incredibly unique selection of cuisines from around the world.
If you find yourself wanting to hit the town afterwards, check out where you can find the best cocktail bars in Sydney.