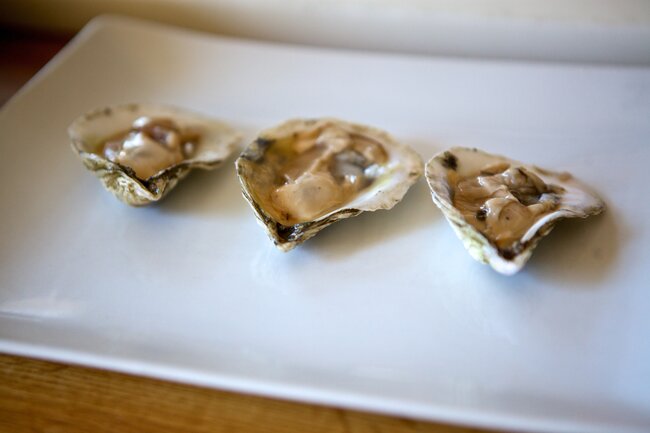 No list would be complete without including one of Andrew McConnel's restaurants. Andrew knows how to make any new restaurant a success, and Gimlet, his most recently opened venue, is no exception.
At Gimlet you'll experience the perfect trifecta that makes up an unforgettable lunch: service, décor and extraordinary food. The restaurant is set in the Majestic Cavendish House (in which Hugh Jackman and Deborra-Lee used to own an apartment). The sleek modern furnishings are very evocative of a stylish classic European bistro that can be compared to the iconic Balthazar in New York.
The staff behind the cocktail bar in the centre of the room craft expertly concocted classic cocktails to compliment the skillfully crafted meals being prepared before your eyes in the open kitchen. The atmosphere is exceptionally comfortable and inviting, due in no small part to the wait staff, who are very professional and offer a wonderfully casual, knowledgeable and friendly but un-intrusive service that has contributed to McConnel's other restaurants success.
It's difficult to make a menu recommendation given the calibre of the choices at Gimlet, so instead we will just say if you've made it to Gimlet, you've already made the right choice, and all you need to do now is sit back and enjoy.
Cuisine: French/European
Address: 33 Russell St, Melbourne VIC 3000
If you find yourself staying in Melbourne for a business trip, or are just looking for a place to go out for a work lunch or meeting, you can be confident that one of the above restaurants will meet your needs. Whether you're looking for quiet and traditional, spicy and modern, or interesting and cool, Melbourne's CBD has the most amazing food and drink that you could ever hope for.